Asheville, North Carolina: Tangent Scale Models is pleased to announce the availability today of our second release of the Pullman-Standard PS-2CD 4427 High Side Covered Hopper! This is the latest Pullman-Standard covered hopper product in our line of "family-appearance" cars that introduce market-leading design and tooling practices, geared toward consumers who desire the most accurate models with a "family-appearance" between prototypes manufactured by the same builder.
During the 1960s, railcar builders experimented with covered hopper designs to satisfy the evolving needs of shippers as they moved away from forty-foot box cars to bulk transport railcars. Pullman's PS-2 design evolution continued in 1966 when the "Low Side" 4427 was replaced with the "High Side" version. The 4427 "High Side" was visually distinctive with its high slope bays and center of gravity, which sped the unloading process of bulk commodities. The "High Side" 4427 included 13 exterior side posts, similar to its sister car design, the PS-2 4740, which had 16 side posts. Both designs were introduced in 1966, and 4427 "High Side" production ended in 1971 after delivery of approximately 12,000 cars.
The Tangent Scale Models PS4427 "High Side" is a dimensionally-accurate replica of the real car and provides continuity with our other Pullman-Standard covered hoppers, including model design, scheme colors, and stenciling. Our model includes key build variations: stirrup steps, roof hatches, jacking pads, tow loops, discharge gates, and side air lines. This replica includes our "near-scale" draft gear box including side "key" detail. Our ready-to-operate replica is finished with coupler lift bars accompanying Kadee® scale couplers, sufficient hidden weights, and CNC-machined wheels to ensure the model operates as good as it looks.
Our March 2019 production of our Pullman-Standard PS-2CD 4427 High Side Covered Hopper includes NINE all-new RTR paint schemes, most of which have never been produced by any manufacturer. Check them out now at www.tangentscalemodels.com
And as usual, all our offerings below feature photos on our website showing the actual model and the prototype cars! Here are our schemes:
SLSF – Frisco "Original 5-67" shows the as-delivered light-gray with bold FRISCO letters on this large order of 300 cars. The lettering nuances of the Frisco cars include classic Roman lettering for the data – a nice touch of class. BN modelers should take note: The Frisco 4427s continued to serve in original paint well into the BN era! Black bays and trucks finish off the Pullman-applied scheme. Available in 6 numbers.

INTX ex-MILW #1 2007+ wears a patched paint job for the modern era. These ex-Milwaukee Road cars were acquired by Interstate Commodities Inc. as part of their varied railcar lease fleet. The original MILW reporting marks and data have been patched and are ready for some weathering. Look closely at the details: a free-standing MILW-applied ACI label, blue patch paint and reporting mark remnants of the previous IMRL lease and vertical conspicuity stripes. Available in one specific and accurate number.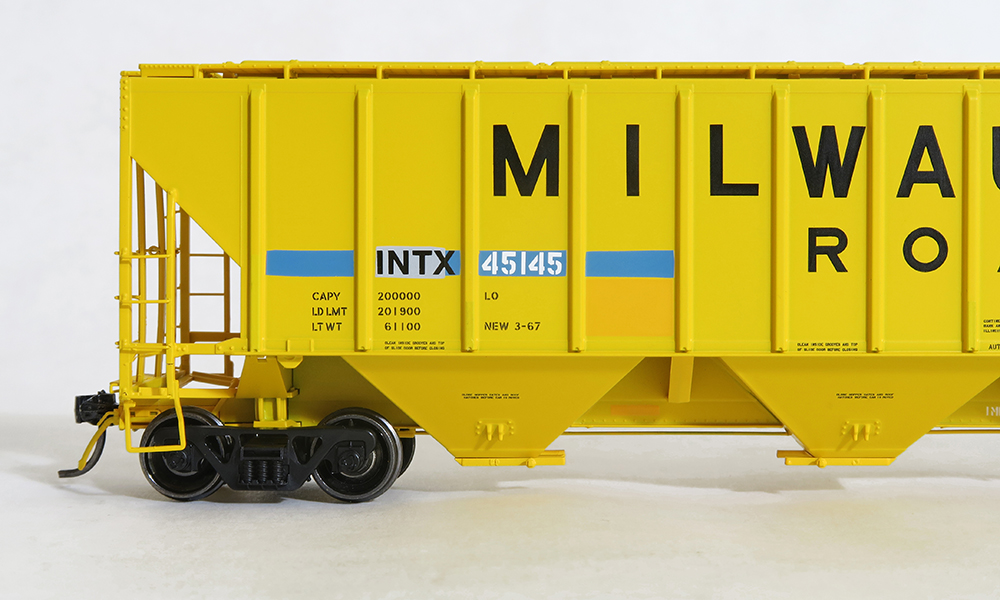 INTX ex-MILW #2 2007+ wears a second variation of the patched paint job for the modern era. This ex-Milwaukee Road car shows the same Interstate Commodities Inc. reporting marks, but with several variations. Can you spot them all? Some include the INTX reporting mark patch variation, the dash-outline MILW applied COTS, and the ghosted remnants of the original ACI label. Available in one specific and accurate number.

Elgin Joliet & Eastern – EJ&E "RI Restencil 1980+" wears the new reporting marks of the post-ROCK shutdown world. In 1980, as the pieces of the Rock Island were divided among various railroads, the EJ&E operated the Joliet to Peoria portion of the mighty good road. This patched car is an example of a fleet in transition. Accurate 1970s RI-era data on the car includes COTS and reweigh data from attention received at RI's Biddle yard in Little Rock, Arkansas. Fresh EJ&E marks pop on the gray paint-out patches. Check out our prototype photo on our website! This car is available in 1 accurate number.

NAHX – "RI Restencil 1980+" is another example of the Rock Island 4427 fleet finding its way to a new home after the 1980 shutdown. Several hundred of the Rock Island cars would be assigned to the NAHX leasing pool. Again, this car shows its former Rock Island heritage without much fuss. The large ROCK ISLAND lettering is intact, and the 1970s El Reno shop reweigh and COTS touches are applied. But a closer look reveals the fresh gray patches and new NAHX reporting marks! This car is available in 1 accurate number.

Iowa Interstate – IAIS "RI Restencil 1987+" is a nod to the IAIS modelers out there, as well as connecting roads that saw IAIS grain and fertilizer service hoppers. This ex-RI car is a rolling time-capsule of RI lettering details. While the IAIS has applied some basic patches and reweigh CAPY data, the large ROCK ISLAND lettering is still intact which is appropriate considering IAIS operates former RI territory! The model features replacement fiberglass roof hatches and new Morton crossover platforms. This car is available in 1 accurate number.

TLDX "JW Flammer 1967" wears a beautiful yellow and black leasing scheme. There is no doubt to the lessee, with the large "J.W. FLAMMER ANAHEIM, CA." graphics dominating the car side. The "Transport Leasing Division" placard adds a little bit of additional color to the Pullman applied scheme. Check out the correct phase details for this car including the solid running board supports on the ends, no jacking pads on the bottom bolsters, and Apex style crossover platforms! Available in 2 accurate numbers.

TLDX "Landmark Columbus 1967" illustrates a great example of the reassignment of a Pullman leased group of cars. This 1967-built block of former Illinois Grain Association cars has been reassigned to Landmark in Columbus, Ohio. No repaint needed. Simply unbolt the old IGA placard on the left side and apply the huge, new LANDMARK paint over the old graphics! Available in 2 accurate numbers, these are sure to sell out fast.

TLDX "Landmark 1977 Repaint" wears the bright red Landmark scheme from the later 1970s. Starting in 1977, these 4427 high sides appeared in this eye-catching bright red with the classic Landmark "L" placard. 1967 as-built phase details are present: tow loops under the sill near the bolsters, solid running board end supports, and original ribbed style roof hatches. However, for this repainted car, note the new replacement Morton crossover platforms on the ends! This big scheme is available is three accurate numbers.

The Tangent Scale Models Pullman-Standard PS-2CD 4427 High Side Covered Hoppers are shipping NOW. Click here for photos and more.
Features for our PS PS-2CD 4427 High Side Covered Hopper replicas include:
– Dimensional accuracy – designed from Pullman-Standard plans and verified with field measurements
– Highly correct "true to life" colors
– "Hyper-Accurate" lettering including exact fonts and lettering placement
– Genuine Kadee® scale couplers
– "Near-scale" draft gear box with beautifully-rendered side "key" detail
– Multiple road numbers for each scheme where appropriate
– "See through" running boards
– Etched metal crossover platforms
– Road-specific details for each scheme: 6 different outlet gates (that's right!), 2 different sets of roof hatches, 2 different running board end supports, jacking pad/tow loop options, 2 different crossover platform options, 2 different end ladder options, 2 different brake wheels, 2 different side air line options and 2 different center sill options. (Whew!)
– Beautiful details – wire ladder rungs, wire grab irons, and wire coupler lift bars – no "molded in" plastic grab irons here!
– Separate air hoses
– CNC-machined 36" wheels in high-quality Tangent Scale Models 100-ton trucks
– Recommended age 14 years and older
Do not miss out on the Tangent Scale Models Pullman-Standard PS-2CD 4427 High Side Covered Hopper, a pivotal cog in the Pullman-Standard catalog of covered hoppers. Pricing for these RTR models is $44.95.
Thank you for continuing to support Tangent Scale Models, a family-owned and operated company!
David Lehlbach
Tangent Scale Models
"Unparalleled scale replicas for discriminating railroad modelers"