Live from St. Louis RPM in Collinsville IL: Tangent Scale Models is pleased to announce the availability today of new paint schemes for our HO Scale General American 4180 "Airslide" covered hopper. First released by Tangent in 2015, our GATC 4180 Airslide covered hopper continues our industry-leading focus on beautiful detailing, consistent colors and stenciling, excellent operating abilities, and phase detailing. When you factor in the quality of detailing and execution out of the box against your modeling time, Tangent provides a better value than train set alternatives that have fewer parts and missing stencil markings.
Our July 2018 production of General American 4180 covered hoppers includes FIVE all-new RTR paint schemes – plus undec kit options so you can "build your own masterpiece."
Check them out now at www.tangentscalemodels.com :
BNSF "Buffer Car" #5 (Car #808051) is Tangent's fifth BNSF Buffer car in the series. This car mimics a former BNSF revenue service Airslide car patched for present-day oil train buffer car service. An incredible amount of small data is printed on this car, including roof anti-skid patches, faded BNSF logos, truck lettering and of course, conspicuity stripes. This car scheme is available in one number, to match the exact prototype. Do not miss out on this car!

BNSF "Buffer Car" #6 (Car #808176) is Tangent's sixth BNSF Buffer car in the series. This time, one of the former 1974-built BN Green cars was patched for the present day. The lettering tells a story – from the car's 1985 repaint into its second coat of BN green, to its Polyclutch relining by Metro East Industries in 1996, and now today's use in BNSF Buffer car service. This car is all about the layers of lettering and is available in one number to match the prototype. This car will sell fast.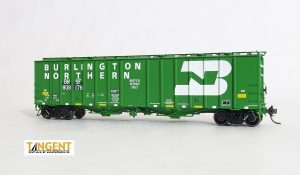 BNSF "2005+ Repaint" (Car #400679) throws some love to a modern-era BNSF Airslide scheme – a car that is not in buffer but in revenue service. We wanted to duplicate every single piece of lettering possible here. Check out the variation of the anti-skid roof patches, the roof "Caution" lettering, and conspicuity stripes. Truck reporting marks finish off this classy modern scheme, available in one number to match the prototype.

BKTY "Original Red 1966" represents the first order of 4180 Airslides rostered by the Missouri Kansas & Texas. Classic Barriger-era red paint and the correct high brake wheel Tangent body style are used for this replica. Look closely – the SP H-100-13 car class is there, as these were leased through SP financing and the Commonwealth Plan. Also, check out our hand-drawn stenciling here, because it is unparalleled by any other brand in accuracy. A classic sharp scheme, available in 4 accurate numbers.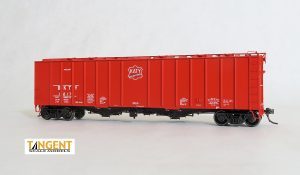 NAHX "Staley 1967" shows off a North American Car Co Leasing scheme. Originally built in 1965, NACC painted the car in Texarkana, Arkansas in 1967 in the distinctive Staley antique white airslide color. Another great example of the relevant, high-brake wheel Tangent body style not available from any other brand. Little things like the distinctive NACC-style stencils and serial numbers finish off our Staley offering. Available in 2 prototypically correct numbers.

The Tangent Scale Models GATC 4180s are shipping NOW.
See https://www.tangentscalemodels.com/general-american-4180-airslide-covered-hopper/ for photos and more.
Features for our replicas include:
– Dimensional accuracy – designed from actual General American plans and verified with field measurements
– Highly correct "true to life" colors
– "Hyper-Accurate" lettering including exact fonts and lettering placement
– Genuine Kadee® scale couplers
– "Near-scale" draft gear box with beautifully-rendered side "key" detail
– Multiple road numbers for each scheme
– "See through" etched metal running boards
– A series of various spotting variations that replicate cars from General American's prolific 1965-1980 production period, including different roofs, running boards, body side post ("rib") profiles, high and low brake arrangements on the B end, different ladder and grab iron arrangements, with or without crossover platforms and handrails, etc. Sell off the toy trains and save your time – we do freight cars right
– Lacy details installed and painted – wire grab irons and coupler lift bars
– Separate air hoses
– CNC-machined 36" wheels in high quality Tangent Scale Models trucks, with semi-scale wheels available separately
– Recommended age 14 years and older
Do not miss out on the Tangent Scale Models General American 4180 Airslide covered hopper, one of the most sought-after freight cars from the turbulent 1960s-1970s period, done right with phase variations! Pricing for RTR models is $44.95.
Thank you for continuing to support Tangent Scale Models, a family-owned and operated company!
David Lehlbach
Tangent Scale Models