SPECIAL NOTE: While we have one RTR SKU (and one kit) still in stock, our first run of cabooses sold out faster than intended. We WILL release a new run of cabooses (with a mix of the sold out and some new schemes!) in 2020! We do not pre-announce our release dates, so please be patient and watch our website and newsletter for our next "spot release." To join our newsletter, go to the bottom of this page and click the orange button that says "Join Our Newsletter."
In 2007, Tangent Scale Models started the trend of offering unparalleled railroad freight car replicas in HO scale, the likes of which had never been seen in the market before. These highly-detailed replicas have consistently raised the bar for HO scale models with several hallmarks, including precision tooling, hyper-accurate stenciling and true to life colors, and era-specific details. Additionally, our models are designed to operate well with CNC-machined wheels, correct weights, and correct coupler heights. Simply put: We offer detailed freight cars on a higher level.
Fast forward to today's release: our first new "Tangent quality" HO scale caboose offering. The era of "one size fits all" cabooses in HO scale plastic is over. Today, Tangent Scale Models introduces the first in a series of unparalleled HO scale caboose replicas. We bring our passion and knowledge for translating real 1:1 railroad equipment from freight cars to cabooses. And we are taking things a step further, where our penchant for operations is accelerated with accurate marker lighting in era-specific versions!
Our first caboose model is the B&O Class I-18 Bay Window Caboose, which was B&O's first foray into non-railroad built cabooses. This fleet of 46 "modern" bay window cabooses were delivered by International Car Co. (ICC), based in Kenton, OH. These were the first welded carbody cabooses on B&O, and they included modern features like full electrical lighting and marker lights, desks and high-back chairs, an oil heater, and roller bearing trucks. The B&O I-18 class was delivered in 1965 and 1966. Here is a nice broadside shot of one of them in service at Seymour IN in 1970.
Here is one of the original paint cabooses working the rear end of a westbound road train on the B&O Pennsylvania Division, Mainline Subdivision train in 1973, about to duck under the WM mainline at Meyersdale PA. This photo is taken about 5 miles west of Sand Patch!
Most of the I-18 cabooses saw service through the Chessie era (Chessie called them class C-24). A majority of the fleet was shopped at B&O's DuBois PA shops in a system program in 1973-1974. Here is a nice shot from the 1973 yellow repaint program caboose taken in 1979 just Northeast of Wilmington DE on what appears to be a MoW job consisting mostly of WM drop end Bethlehem gondolas likely in tie service (coincidentally, another Tangent freight car project) and a trusty B&O I-18 on the rear of the train.
While a majority of the Chessie fleet received Chessie's signature yellow / vermillion / blue paint, 8 of the B&O enchantment blue I-18s were repainted into safety schemes, the largest fleet of them percentage-wise. The C-3000 was repainted into a handsome green safety scheme in 1973. Note the sharp silver-painted underframe and black trucks.
The C-3003 was repainted into a white safety scheme. Note how the safety schemes carry different slogans, as well as other varied graphics such as the Chessie safety emblem.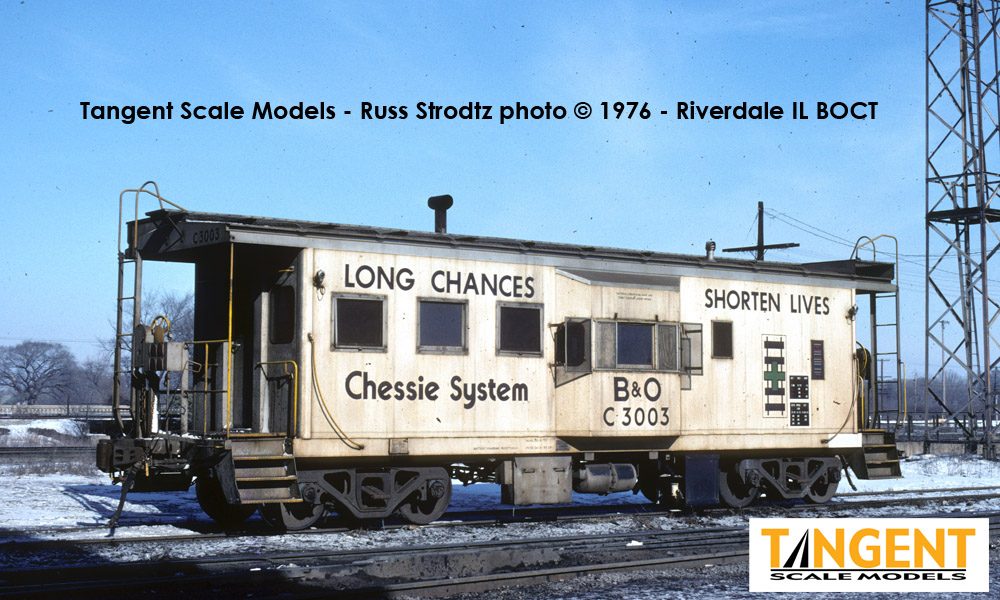 In the early 1980s, the Chessie cabooses were restenciled, and a few were repainted, with "computer system friendly" 6 digit numbers. Chessie simply added a "90" in place of the "C-". Here is one taken in the 1980s.
Most of the I-18 fleet survived to see life on CSX, and here is an example used as a shoving platform in Tennessee in 2018.


The I-18 fleet was in an almost constant state of change as they served the B&O. The B&O made equipment changes quickly after taking delivery in 1965 and 1966. Multiple Chessie System paint schemes, including the incredible eight "Safety Cabooses," would start later in 1973. Exterior lighting and plumbing changes would kick in through the 1970s. The 1980s would bring more repaints, renumbering and further equipment changes. The Tangent ICC B&O I-18 replica follows many of these same paths to execute specific detail and paint combinations.
Tangent's first release is AVAILABLE TODAY includes the following six schemes plus undecorated options:
Tons more model photos – and prototype photos – can be found to the right in the "View and Buy" box. Take a look around!
Now, let's focus on our model. The Tangent Scale Models B&O I-18 Bay Window Caboose is a state of the art, dimensionally accurate scale replica with highly accurate "true-to-life" colors and precise letter stencils. This caboose has never been offered before – in brass, resin, or plastic! Our B&O I-18 caboose was designed from meticulous field dimensions, and includes incredible levels of detail such as Waugh Cushion Underframe, brake system, battery box, toilet pipe, rooftop vents, caboose window treatments accurate for the era of the caboose, plus beautiful see-through steps, end platforms, and running board. Our field dimension work equaled two full days – to insure we got every dimension we needed to meticulously detail the real thing prior to undertaking design. Here is a shot of Tangent's owner Dave underneath the car, taking a break from calling out measurements and photography… while getting really dirty.

Inside the model is an accurately painted ICC-applied interior including the sink, toilet, stove, bunks, and desks. We documented the prototype interior thoroughly, including dimensions, colors, and the history of the changes inside.

The results of our efforts were then translated to our model. Every one of our models has this complete interior, although honestly it is difficult to see it through the windows! Here is the interior of our caboose with the body shell removed (we do not recommend this and it will void the warranty for the caboose due to the complexity of the marker lighting system).

Our caboose includes interior lighting, plus working (lit… see below) marker light options that are appropriate for the RTR paint scheme offered. Here is the model with Pyle lanterns.

Starting in 1979, Chessie began to remove the Pyle lanterns and replace them with these square light housings.

Also in 1979, Chessie added the round red FRA light (i.e. a flashing red light) that people remember fondly from what became the last gasp of the caboose era in US railroading.

We offer "no fuss" track-powered exterior marker lights as appropriate for the prototype, and our cabooses are compatible with DC or DCC setups right out of the box (a simple wand included in the box activates the lights on each end – and the interior – independently). Finally, our ready-to-operate replica includes "near-scale" draft gear box including side "key" detail, coupler lift bars accompanying Kadee® scale couplers, sufficient hidden weights, and CNC-machined wheels to ensure the model operates as good as it looks.
These cabooses are shipping today! More model photos – and prototype photos – can be found to the right in the "View and Buy" box.
Features for these replicas include:
– Dimensional accuracy – designed from meticulous field dimensions with real tape measures
– Highly correct "true to life" colors
– "Hyper-Accurate" lettering including exact fonts and lettering placement
– Genuine Kadee® scale couplers
– "Near-scale" draft gear box with beautifully-rendered side "key" detail
– Multiple road numbers for each scheme, as appropriate
– "See through" Apex roof walkway
– "See through" etched metal end platforms and steps
– Unapologetically fine etch metal window screens
– Era-specific body details for each RTR scheme, including 2 different bay windows and 2 different scale-sized marker lights – both Pyle and "box" lights – they are really small!
– The scale-sized marker lights illuminate and can be controlled to be on or off – on each end – independently
– Full ICC Interior – chairs, bunks, desks, lockers, sink and (non-operating) toilet! The interior is accurately and fully-painted with the two-tone green
– The interior is illuminated with (dim!) lights and the scale size Pyle lanterns or square box lights are lit as well.
– No complicated decoder. No complicated programming. No complicated electronics. It just works, DC or DCC.
– Full underbody details – brake system with brake rods and piping, battery box, electrical plugs and conduit, plumbing detail options, axle generator and more!
– Beautiful side details – wire grab irons, ladder rungs, roof hand holds, and coupler lift bars – no "molded in" plastic grab irons here!
– Separate air hoses with B&O signature platform-level angle cock shutoff handle detail!
– CNC-machined standard RP25 .110" tread 33" wheels (Yes, semi-scale .088" wheels are available separately by clicking here!)
– All-New precision Tangent Scale Models 70-ton Gould roller-bearing trucks with separate brake beam part
– DC/DCC Compatible track-powered "No Fuss" interior and marker light lighting – simple and easy to operate with included wand
– Recommended age 14 years and older
Don't miss out on the Tangent Scale Models B&O I-18 Bay Window Caboose, our first release in the Tangent caboose line. Pricing for RTR models is $89.95, with quantity discounts for direct purchases from Tangent Scale Models.
Please click on the images at right for pricing, SKUs, high resolution photos, prototype photos, car number options, and/or to order!
…..
And if you are still reading and wondering "will Tangent do more cabooses" – the answer is yes. But we won't say what or when since we need to sell this one first! Thank you for your interest in Tangent Scale Models!