Please click on the images at right for pricing, SKUs, high resolution photos, prototype photos, car number options, and/or to order!
Our first image shows off the "group of 6" NEW Greenville 86′ Auto Parts "BRO" 1970+ Version Box Car schemes for our April 2023 production. Please click on the images at right for pricing, SKUs, high resolution photos, prototype photos, car number options, and to order!
During the 1960s, the most radical freight car designs employed the extreme height clearances offered by Plate F car designs. In 1964, no car type articulated this extreme more than the 86-foot, purpose-built "Auto Parts" boxcars. These large boxcars became fixtures on the rails all over North American mainlines, riding hot trains to deliver components vital to the productivity of auto plants. While several car builders offered 86' auto parts boxcars, the most prolific builder of the double plug door design was Greenville Steel Car Company of Greenville, PA. More than 4,400 of these cars were acquired by most major railroads, and they were assigned to pools where multiple railroad's cars served a specific shipper or shippers. Original utilization of these cars was for Ford, Pontiac, and Chrysler, as well as deliveries from 3rd party parts suppliers to the auto plants. Greenville's 1964-1978 production was the longest run for this car type, with many still in service today.
Tangent Scale Models offers high-end HO models of the Greenville 86' High Cube Double Plug Door Box Car in HO scale! This is not just a single box car model, but instead a system of 86' High Cube Double Plug Door Box Car models.
Our April 2023 release replicates a distinctive group of Greenville cars: the 1970 Brownstown, Michigan Ford Parts Pool. The Ford Brownstown Parts Redistribution Center came online in 1970 and supplied the Ford Parts Depot Network around the United States. Parts Depot destinations for these cars included cities like Seattle, WA, Denver, CO, New Orleans, LA, Jacksonville, FL and more. It is important to note that these cars are pooled – so that means any of the BRO cars can be loaded for any BRO pool location! This means that mixing and matching these BRO cars would be accurate to prototype practices.
Visually, these 1970 cars are different from any other Greenville car, with extra vertical rivets rows on the sides of the cars at each end. These rivets attach to the prototype's interior posts for the DF2 belt rails, allowing palletized parts to be loaded on the DF2 interior crossbars. Eleven of the railroads participating in the Ford BRO Pool used cars supplied by Greenville Steel Car Company. With the extra riveted interior posts, the inset end panels on each March 1970-built Greenville side are more narrow. No other Greenville 86' box car lot looks like this!
More about the models in a moment – let's start with the 1970 BRO version prototypes!
One of the most distinctive railroad logos to come out of the 1970s was the Burlington Northern logo painted on a cascade green box car. The largest example of this logo is found on an auto parts box car. The "Delivery 1970" paint scheme replicates the only 86' Greenville box cars delivered new to Burlington Northern Railroad. Built in March of 1970, these big Auto Parts cars feature the early version of BN's graphics – notice the bold "BURLINGTON NORTHERN" on the left side, similar to the premerger CB&Q green scheme. These cars feature a 1970 Greenville body, with narrow end inset panels and an EOCC Underframe with correct Freightmaster cushioning. The car rides on 100-Ton "Low profile" Barber S-2-A trucks, 36" wheels, and "Timken" rotating caps. The BN scheme features an accurate return route stencil to Penn Central in Brownstown, Michigan, home to the Ford Parts Redistribution Center. Here is a fun fact: The BN's 12 cars in this group were ordered by CB&Q (5 cars) and GN (7 cars). As a result, the prototype cars have CB&Q or GN-specific trust data in the upper right-hand corner of the car sides. Yes, the Tangent models carefully replicate this lettering. Our BN models are available in six numbers. SKUs -01, -02, -03 feature CB&Q trust into and SKUs -04, -05, -06 feature GN trust data. Finally, these were the first new freight cars delivered to the then-new Burlington Northern railroad.
The Detroit Toledo & Ironton (DTI) "Delivery 1970 Magenta" scheme is part of a large group of 54 Magenta-painted cars. It was also the first group to be delivered for use in the new Ford Brownstown Parts Distribution facility pool. Yes, these cars were pooled, so that means these beautiful Magenta 86' giants served Ford US Parts Depots coast to coast in the Ford BRO pool lanes. Note that this photo shows a DT&I "BRO" car behind a GN painted, BN-restenciled SD45 presumably photographed on BN headed to Seattle. The DT&I cars feature the distinctive Brownstown body style, with extra vertical rivet rows at the ends of the side sheets. The End-Of-Car Cushioning underframe shows off the 100-Ton "Low profile" Barber S-2-A trucks, 36" wheels and "Timken" rotating caps.
The ATSF transcon was also home to the BRO cars. Here are three of them – a PC, DT&I Magenta, and a ATSF!
Also, for a fun "Where's Waldo" moment, here is a "distant" photo of one of the DT&I Magenta-painted cars in Spokane WA in 1972, on the Burlington Northern!

Also, keep in mind that these BRO cars were restenciled later in their service lives when they changed pools. Here is a former "BRO" car in 1981 that has been re-assigned to Woodhaven MI service.
The Seaboard Coast Line (SCL) "Delivery 1970" cars were painted black with yellow graphics advertising "Smooth Cushioned Load" – did you see what they did there? The SCL class X-9 numbered four cars and these models match the prototypes with truck-mounted brakes and Freightmaster End-Of-Car Cushioning. The ends feature Gypsum end crossover platforms and an Elcon-National power brake. The silver doors and white ends really pop on this scheme, as does the sharp yellow stenciling! SCL's mainline between Atlanta and Jacksonville hosted Ford Brownstown traffic.
The St. Louis-San Francisco (SLSF) "Delivery 1970" scheme represents Frisco's contribution of nine cars to the Ford Brownstown Parts Pool, all delivered in March of 1970. These 86' box cars were painted in SLSF yellow, with the iconic coonskin logo and "Ship it on the Frisco!" slogan. This paint scheme is simply stunning when applied to the Tangent model. But there is more to painting SLSF than just a logo. The Frisco's Roman reporting marks and data need to be done right. Add in the Boatmen's National Bank of St. Louis trust stencil and even a Frisco-accurate ACI label, and we are very proud to offer the most-accurate SLSF artwork in the industry.
The Cotton Belt's only group of Greenville 86' Box Cars brings modelers one of the most-recognized paint schemes on a Greenville 86' box car. They were painted in "SP Scarlet Red" including those aluminum doors! SP "lettering gray" was painted in an oval shape on the doors, leaving a huge "SP" in place in scarlet red. Also, the slogan "HY-CUBE CUSHION-CAR" along with most of the small data is accurately replicated in SP "lettering gray." The "COTTON BELT" roadname and reporting marks are accurately painted white. The prototype car (and the model!) feature a Center-Of-Car Cushioning underframe with 20-inch Keystone draft gear – notice how the draft gear sticks out longer than the carbody. Truck-mounted brake details complete the underframe, along with corresponding truck-mounted brake beams on the 100-Ton "Low profile" Barber S-2-A trucks. At any angle, these B-100-26 box cars are stunners.
The 1990s+ Santa Fe world is dominated by oxide red freight cars, and the ATSF "Quality Repaint 1992+" scheme offers a great example these repaints. In this era, the Santa Fe cars have the "third crank arms" on each of those big plug doors, a detail we have faithfully replicated on the model. We are offering six road numbers in this 1992 ATSF release: SKUs -01, -02, -03 have accurate February, 1992 Topeka Shops applied data, while SKUs -04, -05, -06 have a variation of Topeka data applied in August 1992, with slightly different side, end and door locations. We even changed the tack board locations to follow prototype photos. Variety is a wonderful thing for your Tangent fleet of cars.
If the above 1970 BRO cars weren't enough to catch your eye, check out some of our January 2023 releases, Greenville's 1977-1978 production. Over one-quarter of Greenville's production was built between 1977-1978. These 1977-1978 cars are distinctive, with five grab irons on each side and corresponding ladders/grab iron configurations on the ends. This is the tenth Greenville body style in our line (yes TENTH, you read that right), including multiple specific body variations, four different brake layouts (two brake systems), four different draft gear combinations, and three underframe styles which incorporate Center-of-Car Cushioning and End-Of-Car Cushioning options.
One of the most distinctive railroad logos to come out of the 1970s: the Ann Arbor "Ferry in the Fog." Built in November of 1978, this group of 20 cars represents the final Greenville 86' boxcars built. They were leased by the Michigan Interstate, who operated the State of Michigan-owned Ann Arbor at this time. The cars worked out of Ford's Saline, Michigan plant, carrying chrome and trim parts around to Ford assembly plants and parts warehouses. These prototypes were built with the late-Greenville body with 5 grab irons on the left and right sides of the car. The car is equipped with body-mounted brake rigging hanging down from the underframe and 100-Ton trucks with rotating Timken roller bearing caps. The Freightmaster End-Of-Car Cushioning details really pop, since Ann Arbor painted the face of the striker orange.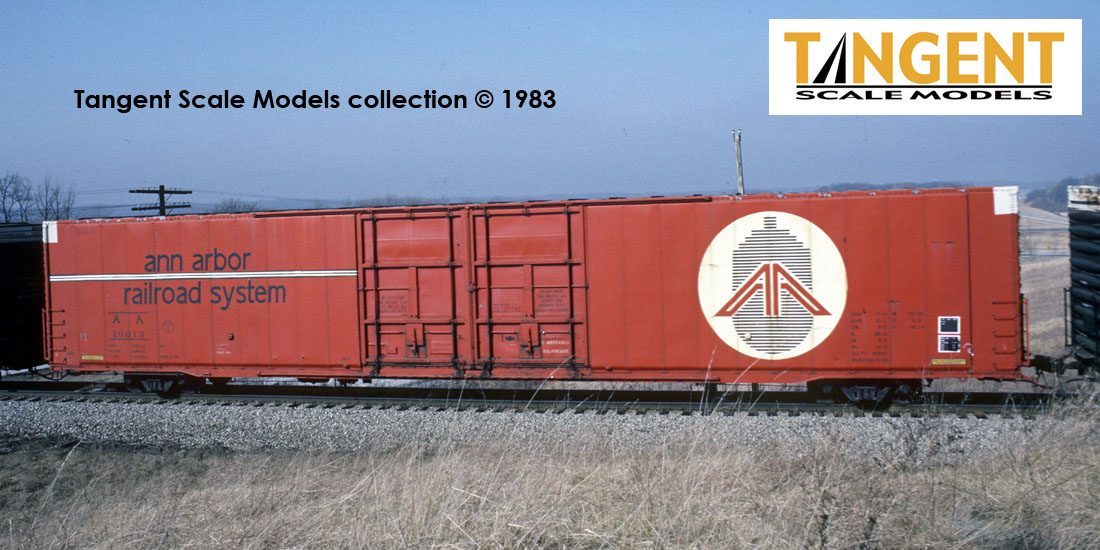 Here is an example of a 1978-built Greenville 86' High Cube Double Plug Door Box Car right after delivery, in Canadian National paint! CN rostered three orders of Greenville cars, but this order for 80 cars in 1978 was the largest. The 1978 cars have body-mounted brake gear and End-of-Car Cushioning components, along with that signature 5-grab iron body that makes them stand out from any other style of 86' Greenville box car. Some of these cars have lasted in their original CNA brown delivery scheme for a long time – we can verify an example to at least 2016!
This Chessie C&O order was huge – 275 cars were delivered in October and November of 1977. They featured the late Greenville phase details with 5 grab irons at the left and right corners of the body. These prototypes really stood out with that fantastic Chessie C&O blue, white "excess height" end painting, and galvanized silver roof. The cars included exact and accurate Chessie C&O data, as applied by Greenville, including metric units! These cars featured body-mounted brake rods, Gypsum-style crossover platforms and 100-Ton "Low Profile" Barber S-2-C Roller Bearing Trucks with accurate rotating Timken caps.
While there were several different Conrail repaint schemes applied to Greenville boxcars, this is the only Conrail-purchased scheme! Also, this is the longest serving Conrail Greenville auto parts car. This 1978 Greenville order is significant, numbering 312 cars. The CR cars feature body-mounted brake gear with all those visible rods and assemblies hanging below the car side. Did you notice the "third arm" mechanisms at the top of each door?
The NW rostered several Greenville series, but the 1978 order was the biggest. In fact, this 1978 B-138 class of 317 cars was the biggest Greenville order of any railroad! The bold NW graphics are almost understated on a boxcar of this size, but this paint scheme is one example that literally defines modern auto parts trains. These NW cars featured the late-Greenville body with 5 grab irons on each side along with body mounted brake gear.
This CSXT car is the most modern incarnation of the CSXT scheme we have found yet applied to Greenville 86' boxcars, starting in 2019. For those keeping score, this is a former Chessie C&O 1978 car, with its 5-grab body style and body mounted brake hardware. The times, they are a-changin, and this car has an updated appearance for 2019-2020+ layouts. Notice the lack of a COTS panel on the paint job, vertical conspicuity striping, the correct placement of the large tackboard near the reporting marks, and the modification of the "third arm" layout on the left hand door. Those yellow-painted grab irons look classy!
The first Greenville cars were built in 1964 and featured rooftop running boards ("roofwalks") which were removed during the year 1965. Here is an example of a PRR prototype car modified in 1965, with the removal of the roof running board, the lowering of the brakewheel housing and removal of high grab irons and end ladders. If you look closely, you can see all of these "remnants" on the sides and ends of the prototype. The roof features the old bolt locations of the running board supports! PRR purchased a large group of 145 cars prior to the PC merger. Painted in the characteristic PRR freight car red colors with large PRR keystone and gold "Cushioned Load" stenciling, these cars were seen widely.
This Conrail (CR) Ex-PRR X60C Patch 1976+ can trace its heritage back to the 1964-built PRR X60C class shown above. It represents one of the former PRR-painted cars that has been quickly "banditized" with Conrail reporting marks and road numbers, a common practice in the early years of Conrail. These banditized stencils were applied to only a subset of the car fleet, and they always make very interesting models and weathering projects. These cars feature the "remnants" of the grab irons on the sides and ends of the model, as well as the roof details of a car that had a running-board at one time.
Another eye-catching scheme was found on the Illinois Central Gulf cars. ICG had three distinct orders of Greenville double-door boxcars, and this group represents the 1977 delivery cars, the second of the three orders. The 1977 cars have body-mounted brake gear and End-of-Car Cushioning components. These stunning orange replicas include a 10-foot I-ball logo, large Illinois Central Gulf lettering, plus white "Cushion Car" stenciling. These cars are a little different from some of the more traditional auto parts cars, as their return route stenciling directs them to "ICG RR, Centralia Illinois" – an artwork detail that we replicate faithfully! Fun fact: Centralia, Illinois was home to Rockwell International, a manufacturer of fiberglass automotive and truck parts.
N&W was the largest original purchaser of Greenville 86' auto parts boxcars from multiple eras, and these cars literally went everywhere. This Norfolk Southern (NW) B20 Repaint cars were painted in NS brown paint in 1989 complete with the NS logo stenciling in white. This 1965-built Greenville group features Center-of-Car Cushioning details, a Hydra-Cushion cylinder and truck mounted brake hardware. The B20 class rides on 70-Ton Barber S-2A Roller Bearing Trucks, with 33" wheels and accurate rotating "Timken" roller bearing caps. As a reminder, These beauties are available with six road numbers!
The sixth-largest fleet of originally painted Greenville 86-foot auto parts cars was Erie Lackawanna. The first of four Erie Lackawanna orders was delivered in 1965, this group of 100 cars featured Center-of-Car Cushioning with truck mounted brakes. This car includes the large spelled out Erie Lackawanna on the left side of the car, and a large gold "Cushioned Car" and large white Erie Lackawanna diamond logo at the right side of the car. This Erie Lackawanna offering was part of the Ford's Chicago Stamping Pool, resulting in an accurate Chicago Heights, Illinois return route stencil.
Here is an example of a 1969-built Greenville 86' High Cube Double Plug Door Box Car right after delivery, in Baltimore & Ohio paint! This car is from the first Baltimore & Ohio order of Greenville 86' Double-Door box cars. Representing B&O's first order of cars, which were initially assigned to Pontiac service, these cars also include the glorious yellow "script" "Cushion Underframe" stenciling so commonly found on the railroad's pre-Chessie boxcars. All of that beautiful B&O car data is present, from the intricate "Cushion Underframe" script to the tiniest "Freightmaster" branded cushioning badge on the end of the car. This 1969-built Greenville car features Apex style crossover platforms and a Universal hand brake housing. Check out those 100-Ton "Low Profile" Barber S-2-C Roller Bearing Trucks, with 36" wheels and Timken rotating caps.
The Penn Central (PC) auto parts cars were certainly memorable when it came to stencil lettering and the large worms adorned on the side of the car. The 1968 PC green paint looks sharp, with the contrasting aluminum doors. These Greenville-painted original PC cars were classed as X-60M, and were built in October 1968. The "When Empty Return to" stenciling is to Chicago Heights IL, again representing the service to/from the Ford Chicago Stamping Plant. PC-distinctive details stand out on this replica, including a gorgeous Peacock 850 hand brake and Morton crossover platforms. This PC car was photographed in Toronto on CN.
Keep in mind that these were pooled boxcars which means you might consider buying cars in a variety of road names. Again, the pools for these cars mean that the cars were roamers – don't just look for cars from "your" railroad!
Here is an example of a 1969 photo from Buffalo, showing some of the wonderful roadname variety mentioned here, including PRR, L&N, NYC, ATSF, CBQ, NW, CBQ, CNW, and UP, all in one photo!
Our focus today is with the double plug door box cars from Greenville. The "other" 86′ Greenville auto parts cars – the quad door cars (four doors visible on one side) – have earned a separate page here.
Now, for the models! The Tangent Scale Models Greenville 86′ Double Plug Door Box Car system continues the design and operational standards set by previous models in the Tangent product line. Our product builds up to twelve major build variations (yes TWELVE, you read that right), including multiple specific body variations, four different brake layouts (two brake systems), five different draft gear combinations, and three underframe styles which incorporate Center-of-Car Cushioning and End-Of-Car Cushioning options. The Tangent Greenville 86' box car includes a 70-ton or 100-ton truck option, with selections appropriate for each paint scheme, and both include "spinning" roller bearing caps. Finally, our cars are weighted properly and come with Kadee® couplers mounted in specially-designed coupler pockets which means they operate as good as they look. Due to the car's size, we recommend curves of 24" or larger for these models.
Below you can see the different underframe variations we have built up to reflect the different underframe, center of car or end of car cushioning, and associated brake system changes.
Click the paint schemes in the grid at right to view more model photos and buy!
The Tangent Greenville 86' High Cube Double Plug Door Box Car system is a state of the art, dimensionally-accurate scale replica that was tooled to Greenville Steel Car plans and verified with field measurements. Our model comes with highly accurate "true-to-life" colors and "hyper-accurate" lettering including exact stenciling, fonts, and lettering placement. Our Greenville 86' system of models offers a multitude of detail variations and phases to replicate the many different Greenville Steel Car offerings. A quick synopsis of our era and railroad-specific detail variations include:
• Body shells with or without overlapping side panels
• EOCC (end of car cushioning) or COCC (center of car cushioning) "near scale" draft gear variations with genuine Kadee® scale couplers
• Separate flexible rubber air hoses
• Roofs with running board supports remaining in place (1965+ appearance since the running boards were gone by 1966) and roofs without running board supports (1965+ Greenville production)
• Under car brake system variations
• "See through" etched metal end crossover platforms in three possible options: Gypsum, Apex, or Morton
• Side tack board types/sizes and locations
• Twelve prototypically-accurate brake stands (Ajax, 2 Universal versions, 2 Equipco versions, 2 Miner versions, Champion-Peacock, 2 Elcon-National versions, Peacock 850, Klasing 1150)
• Two possible handbrake "brake wheel" options
• Optional 3rd door crank arm parts to be configured one of three ways
• Multiple truck options: 70-Ton Barber S-2A Roller Bearing Truck, 70-Ton Barber S-2 "Birdsboro foundry" Roller Bearing Truck or a 100-Ton "Low Profile" Barber S-2-C Roller Bearing Truck
• 33" or 36" wheels, as applicable, with front and back detail and accurate tapered axles
• Two truck brake beam part options
• Three "rotating" roller bearing truck cap options
• Recommended age 14 years and older
Finally, check out the TRUCKS on these cars! Our new Greenville 86' High Cube Double Plug Door Box Car models feature one of two new truck options – either a 70-Ton Barber S-2A Roller Bearing Truck or a 100-Ton "Low Profile" Barber S-2-C Roller Bearing Truck.
Here is the 70-Ton Barber S-2A Roller Bearing Truck:

Here is the 100-Ton "Low Profile" Barber S-2-C Roller Bearing Truck:

These all-new truck options are systems of their own! They include your choice of 3 different "rotating" roller bearing caps and 3 different wheel options. Each truck also has the option of two separate brake beam parts, either for body-mounted brake systems (which are our standard offering), or for truck-mounted brake systems (available as a swap-in part). Our trucks and parts are available separately, and our RTR-cars come equipped with the correct configurations of trucks and parts!
With accurate roadname and era-specific details, genuine Kadee couplers, and all-metal wheels, we provide you with a high-value model that will provide you with years of enjoyment and curb-appeal. Pricing for RTR models is $56.95, with quantity discounts for direct purchases from Tangent Scale Models.
Click the paint schemes in the grid at right to view more photos and buy!
For Greenville Steel Car Company 86' High Cube Double Plug Door Box Cars sold out at Tangent but possibly available in stores, please click here.