Please click on the images at right for pricing, SKUs, high resolution photos, prototype photos, car number options, and to order!
General American Transportation Corporation produced a large fleet of 3500 cubic foot "Dry-Flo" covered hoppers beginning in 1959 as a response to customer demands for larger covered hoppers capable of handling bulk commodities. While covered hopper innovations during the 1950s proved valuable to bulk shippers, they wanted covered hoppers that could handle larger quantities of specialized commodities such as such as oats, malt, and rice. Coincidentally, plastic pellet producers were also looking for larger cube covered hoppers that could be easily loaded and unloaded under pressure. The Dry-Flo family of cars was General American's answer to this call, with gravity-pneumatic or pneumatic-only discharge options available through three different outlet gate versions. These outlet gate variations were marketed as the Dry-Flo, Dry-Flo Chem, and Dia-Flo. Dry-Flo production ended in 1962, however these cars lasted in service well into the 1990s.

Please click on the images at right for pricing, SKUs, high resolution photos, prototype photos, car number options, and/or to order!
CB&Q was the largest railroad purchaser of the Dry-Flo covered hopper, with a fleet of 200 cars. These cars were especially neat looking, with their black underbody details, gorgeous "Burlington Route" placard and large spelled out "Burlington." "Everywhere West" and "Way or the Zephyrs" was stenciled on alternating sides. CB&Q and BN used these in many different services including soybeans, spent grain, petroleum coke, corn products, oats, bentonite, and various milled products, and then were placed in silica sand service late in their lives. Here is a photo of the first GATC Dry-Flo built for CB&Q:

Here is an example photo of a CB&Q car in service, during the BN era: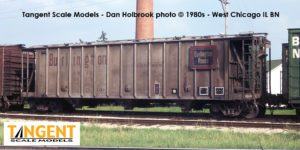 The official CB&Q assignments for these cars list a series of industries as origins; note the wide variety of services and loading points, and how some of these loading points were not on CB&Q (click to enlarge). These cars roamed with their loads to destinations offline!

More than half of the CB&Q cars retained their CB&Q ownership until leaving the roster during the BN era. BN-painted cars are cool, and we thought this "mispelled" version of a former C&S car (C&S was a CB&Q subsidiary road and had their own fleet of stenciled cars) would go nicely with the CB&Q cars above. Here is a shot of the real car. Who forgot the "R"?
CGW had a group of these cars that were assigned to various services on the CGW, loading in Cannon Falls MN, Jefferson Jct WI, Des Moines IA, and Kansas City. They were in various milling services, meal loading, and peanut loading, according to 1968 CGW car assignments. While the cars were delivered to CGW in gray paint, the CNW Clinton shops repainted some of the cars; one of them is here:

Missouri Pacific had a group of 50 Dry-Flo cars delivered in a classy original gray scheme in 1959, which included the classic Missouri Pacific "buzzsaw" logo. Like some General American painted cars, these cars include the correct black underframe coloring with distinctive open and close lettering in white on the six underbody bays. MP specified a black car cement roof, which makes them really stand out. As a reference, Tangent has an example waybill of a MP car offline on EL train NE-74 delivering a load to Agway in Corning NY in May of 1975. Here is a sample photo of the prototype car:

PRR had 3 groups of GA-built Dry-Flo covered hoppers, and we have been able to document 2 cars in PC green paint, which we now offer. Our 1972 repaint is a "P59" shop-stenciled repaint from 1972 in PC green with white worms and spelled out "Penn Central." The car is stenciled "grain load only" in the center of the car. Our previous run included PRR paint, but this time we wanted to include PC. We have a EL waybill record for a PRR Dry-Flo headed to Waterville NY loaded with grain meal, likely interchanged from PC at Buffalo. Here is a photo of one of these cars:

Some of these gravity-pneumatic cars were intended for plastic granule service, and our newest offering of these includes a quinnessential 1960s looking DYLX Koppers Plastics. This 1961-painted silver painted car includes the distinctive Koppers logo in white, black, and red with large black "Koppers Plastics" stenciling on the side of the car. These are distinctive cars that were meant to provide plastic pellet products to all corners of North America. Here is a shot of this car, in service on the Northeast Corridor on PRR in 1964:
Several shippers in Canada also purchased these cars, with their products being shipped to destinations both in Canada and USA. "Quebec Iron & Titanium" leased a group of these GATC Dry-Flos in 1959. They were painted in the GACX lease scheme which was a gray car painted car with large stencils for "Quebec Iron and Titanium." These distinctive cars were meant to provide transportation of titanium dioxide products, a processed product originating from ilmenite, to North American consumers. Here is a shot of one of these in service:
Finally, Diamond Sugar based out of Montreal shipped sugar in very attractive gray cars with a large blue and white band, and a distinctive red diamond logo. Saying these are flashy is an understatement. Check out the beautiful, prominent lettering on this car!
The Tangent Scale Models Dry-Flo covered hopper includes road-specific details accurate for each paint scheme. Our Dry-Flo hoppers include our finely-detailed gravity-pneumatic outlet gates and are ready for any of the following services on your layout: malt, fertilizer, feed, chemicals, plastics, carbon black, rice, or salt. Also, check out our correct "true-to-life" colors and "hyper-accurate" lettering including exact fonts and lettering placement. Finally, our scale replicas operate as well as they look, equipped with free-rolling all-metal wheels and genuine Kadee® scale couplers, meaning our models are truly ready to run. Oh, and some of our new cars also ride on our new Barber S-2-A 70-ton roller bearing trucks (available separately!), while others ride on our fine ASF 70-ton ride control plain bearing trucks – depending on which truck the prototype rode on! See our images at right for prototype photos!
Features for these replicas include:
Dimensional accuracy – designed from General American plans and verified with field measurements
Highly correct "true to life" colors
"Hyper-Accurate" lettering including exact fonts and lettering placement
Genuine Kadee® scale couplers
"Near-scale" draft gear box with beautifully-rendered side "key" detail
Multiple road numbers for each scheme
"See through" etched metal running boards
Road-specific details for each scheme, including 2 different truck options, 2 different shaker brackets, 3 different brakewheels, and 3 different handbrake housings
Lacy details – wire grab irons and coupler lift bars
Separate air hoses
CNC-machined 33" wheels in high quality Tangent Scale Models trucks, with semi-scale wheels available separately
Recommended age 14 years and older
Don't miss out on the Tangent Scale Models General American Dry-Flo covered hopper, one of the most needed freight cars from the turbulent early-1960s period of freight car development!

Please click on the images at right for pricing, SKUs, high resolution photos, prototype photos, car number options, and/or to order!