Please click on the images at right for pricing, SKUs, high resolution photos, prototype photos, and/or to order!
First produced in 1974 by Bethlehem Steel as UP class H-100-10, production of a majority of the fleet occurred in UP's Albina Shops in Portland OR between 1976 and 1981. Production of this important fleet ended with the H-100-23 class, after UP placed more than 6,400 of these "quad" hoppers in service in the rapidly-growing Western low-sulfur coal market. While these models match UP's largest fleet of coal hoppers, thanks to strong demand from our customers, Tangent Scale Models we also offer paint schemes that are similar to quad hoppers used by other railroads.
With these cars wandering far beyond just UP rails in both unit and carload services, consider adding some of these replicas to your layout or collection.  We have produced 13 different paint schemes for 2018, and added even more paint schemes and numbers for 2019!
(click to enlarge)
Our motto is "Unparalleled scale replicas for discriminating railroad modelers".  We hope you'll agree! Our Bethlehem Quad Hopper replicas include:
Highly accurate "true to life" colors
Exact fonts and lettering placement
Painted, scale-sized wire grabirons and coupler lift bars for strength and durability
Air hoses
Thin-profile brake piping
See-through etched metal brake platforms
L-shaped end-sheet supports
Interior bracing detail
Highly-detailed hopper bay outlet gates
"Narrow appearance" coupler box with Kadee® scale couplers
Ready-to-operate model with hidden weights
Tangent 100-ton N-11 trucks with free-rolling metal wheels
A "Tangent-accurate" non-symmetrical, properly-sloped coal load
Dimensional accuracy – scaled from prototype plans
Car number selection process – we select car numbers from online or published sources, focusing on late era numbers to represent more than 35 years in continuous operation.
Prototype Information – Bethlehem-design UP Quad Hopper
In addition to producing unparalleled scale replicas, one of the primary goals of Tangent Scale Models is to link our scale replicas to their prototypes.  We do this by showing prototype photos on our website, so that our customers can compare the two and compare them to each other.  You can find these prototype images on the order pages for each product – click on the images to see them large!  As you can see, we are not afraid of being held to a prototype standard, and we are the only brand that shows prototype photos to compare the models to.
For our Bethlehem-design Union Pacific Hopper, we have taken this practice to a new level.   Not only will be show roster shots of the real cars on the website product pages, but we want to assemble an in-depth combination of the hoppers working throughout the US in trains.  This means action shots, switch lists, and other sources of documentation.  Please let us know if you have something to contribute here!   And don't forget, we offer these beautiful models in HO Scale.  Go ahead and splurge on a few or a train for yourself!
These cars represent UP's largest fleet of coal hoppers in company history.  First produced in 1974 by Bethlehem Steel as UP class H-100-10, production of a majority of the fleet occurred in UP's Albina Shops in PortlandOR between 1976 and 1981.  Production of this important fleet ended with the H-100-23 class, after UP placed more than 6,400 of these "quad" hoppers in service in the rapidly-growing Western low-sulfur coal market.  These cars became the workhorses of the UP coal fleet, serving coal originations in Wyoming, Utah, Colorado, and the PowderRiver Basin, and sometimes on non-UP coal originations such as DRGW, Utah, and Wyoming & Colorado (former UP branchline).  The DRGW origins became part of Union Pacific in 1996, and to this day these mines continue to load these UP quad hoppers!
UP's quad hoppers wandered both systemwide and to offline railroads as customers sourced coal from a variety of origins.  A sample destination to the west that received coal in these hoppers was Southern California's Kaiser Steel located in FontanaCA, as well as the bulk export terminal at San Pedro.  Trains of quad hoppers for these customers operated over CajonPass with various motive power groupings, most notably mixed DRGW and UP power (plus helpers).  A few sample eastern gateways in early years were the Commonwealth Edison Co. power plants at Waukegan IL and Hammond IN, Kansas City Power & Light at Kansas City MO, Illinois Central destinations for TVA in Kentucky, not to mention Eastern and Midwestern carriers both in carload (sourced for cement and other production purposes) and unit train services.  These quad hoppers continue to serve, operating to customers without dedicated bank-owned coal sets, as well as services literally anywhere when customers in North America want to increase coal deliveries from UP sources.  Finally, the quad hoppers have been spotted in non-coal services such as miscellaneous aggregates, coke, and sugar beet services.
On this page we have included an updated gallery of prototype photos to show you some of the major paint schemes in service, a free service from Tangent Scale Models.   We believe that an educated customer is a happy customer.  All images below can be enlarged.
First, here is a shot of both freight car red (Tangent scheme #1 and #10) and black and yellow (Tangent scheme #2) original paint UP quad hoppers waiting for loading in Cheyenne WY in either late 1978 or 1979.
Next is an example photo from 1980, where a trainload of original paint black and yellow quad hoppers (Tangent scheme #2) are rolling on the UP mainline Eastbound at Buda NE behind a trio of GEs.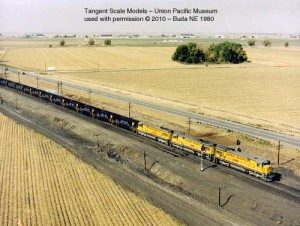 Due to its proximity to a major metropolitan area, perhaps no locale is better documented than the UP quads moving across Cajon Pass to the Port of LA and San Pedro and Kaiser Steel in Fontana.  The varied locomotive consists with power belonging to UP and/or DRGW, as well as helpers from UP or ATSF, made these trains unforgettable.  Today these trains still ply Cajon.  In 1975, a shot of combined DRGW and UP power haul a train of UP freight car red quad hoppers (Tangent scheme #1 and #10) over CajonPass.  You have the locomotives from the other guys.  Now you can have the cars!
Following up on the above image, here is another one from the CajonPass area.  This image shows a coal train descending CajonPass just to the west of Summit.  This is a train of export coal.  Note the mixed hoppers in the train, including the Tangent Scale Models UP quad hoppers.
One example of UP quad hoppers being used for non-coal shipments was the use of sugar beets within the Pacific Northwest.  A Mainline Modeler article from 1995 by Thorton Waite described the operation, and showed the UP quad hoppers in action.  Pictured are original paint oxide red cars (Tangent scheme #1 and #10).
In 2001, two UP C44ACs Location are near the St.LouisRiverBridge at Steelton, MN.  This is a train of all-rail ore empties UP is delivering to Steelton and the DM&IR crew will eventually climb on board and use the run-thru engines to take train to Minntac to load pellets, then return it to UP.  So here is a case of cars being used on DMIR!  While the consist is mixed hoppers (although a majority are UP quad hoppers), note that the second car in the train is a "double rotary" car (Tangent scheme #3).
In recent years, some UP quads have been utilized in company MOW service.  Here is a shot of an original paint red UP quad hopper (Tangent scheme #1 and #10) hauling used railroad ties.  Click here to see the image.
Bethlehem-design UP Quad Hoppers were also seen in other offline locales away from the UP system.  This montage of switch lists and snapshot document the very regular offline move of UP coal from the HannaBasin to railroad partner IllinoisCentralGulf.  These UP quad hoppers (Tangent scheme #1) were loaded for the Illinois Electric Power plant at Baldwin IL, and were routed to Kansas City via UP where they were delivered to ICG.  This move still happens today using these same hoppers, although the coal originates on the former DRGW.
In 1988, a set of 3 CNW SD40-2s pull a set of UP black quad hoppers (Tangent scheme #2) past Dayton's Bluff MN, just outside St. Paul.
In 1980, an Alco RSD-4 is the subject of the image at ProvoUT, with a set of red UP quad hoppers (Tangent scheme #1) in the background.   Please click here to see the image. 
Operating in general manifest service – not in unit trains – here is a link to a UP quad hopper offline on CSXT in recent years, in OH, IN, and MI.  UP quads have been cited far and wide in offline applications such as these.
Please click here for an example in offline coke service.
Please click here for an example of an offline empty move.
Please click here for an example in offline aggregate service.
There are other examples of these as well that support these cars far and wide.
Coming soon… non-UP quads in service.