Please click on the images at right for pricing, SKUs, high resolution photos, prototype photos, car number options, and to order!
Tangent Scale Models is pleased to now offer the 52-6 riveted 70-ton drop-end gondola car as designed and produced by Bethlehem Steel. First produced in March 1937 for Baltimore & Ohio Railroad as class O-59, B&O alone purchased 4,000 of these drop-end gondolas which served every corner of North America in many services. Five additional railroads purchased these Bethlehem-design gondolas in intervening years until production ceased in 1957, with some going to second-hand owners as well. Most of these gondolas were phased from revenue service by the mid-1980s, with many serving additional years in various MOW roles.
The Baltimore and Ohio Railroad was the largest purchaser of these cars, starting in 1937. We have offered the 1937 cars in the past, so let's look at this photo of one of the 1940 B&O series delivered from Bethlehem Steel with the capitol dome logo.
Baltimore & Ohio repainted many of the Bethlehem gondolas during the 1950s. Here is an example of a 1957 repaint with the large, classy B&O lettering in the center of the car.
The "Anthracite Roads" purchased these cars in large numbers, which is no surprise because Bethlehem Steel was directly and indirectly served by many of these railroads. The World War II years were especially prolific for production. CNJ bought these cars through the Central Railroad of Pennsylvania. This is a huge and highly relevant series of 1,000 cars, the largest car class on CRP/CNJ. The scheme includes a black carbody with white stencils including "Lady Liberty" and "Jersey Central Lines." Carbody details include a wood floor, dreadnaught ends, and conventional draft gear.
These cars were restenciled to CNJ in the early 1950s.
Lehigh Valley placed several orders for these cars as well. As these cars wore on, LV endeavored to rebuild them internally and externally. Internal shop program repaints were performed at Sayre, Pennsylvania. Lehigh Valley (and USRE) painted these Bethlehem Steel gondolas in a myriad of colors including two different greens, Cornell red, black, and gray. Here is one of the gray-painted cars.
Wellsville, Addison & Galeton (WAG), a shortline railroad operating in northern Pennsylvani, managed acquired a small series of eight ex-B&O Bethlehem gondolas. Painted red with white lettering, they exhibits the details of its B&O O-59 class heritage including Duryea draft gear.
Western Maryland's Chessie-repainted cars are now available in the "Flow Control Container Car" scheme which were repaints of Western Maryland "speed lettering" cars. These cars were repainted at Elkins, West Virginia. The Chessie cat logo is centered on the car.
Our models include many features found on these very common prototypes. You want these beauties on your layout!
For example: note the wood floor at left, and the steel floor at right. Also notice the "conventional" underframe at left and the Duryea underframe at right. Finally, note the "wine" tie downs at left on the top of the car (for tying down lading) and no tie downs on the right. Our models come with correct floors, underframes, and tie down apparati for the schemes they represent.
Here are a few other selected photos. More can be seen – and cars can be ordered – by clicking in the grid at the right side of this page.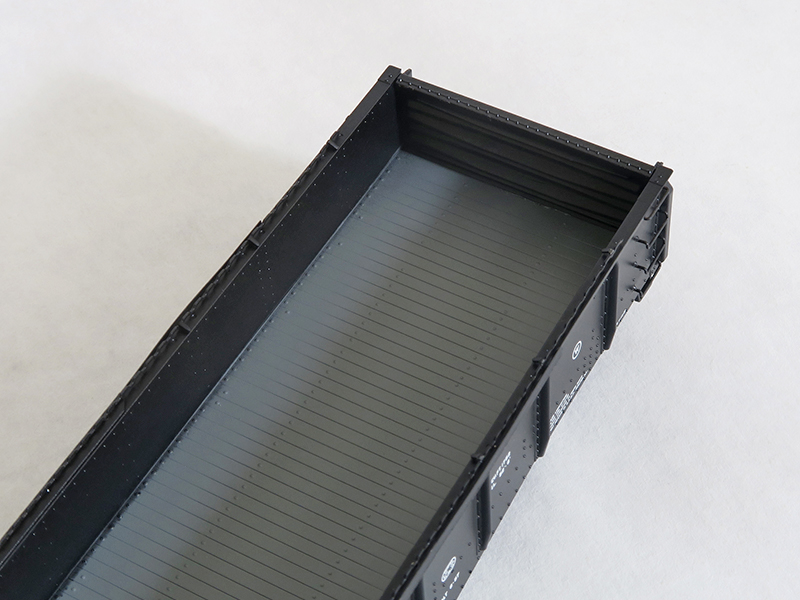 Our motto is "Unparalleled scale replicas for discriminating railroad modelers".  We hope you'll agree! Our Bethlehem 70-ton riveted Drop-end Gondola replicas include:
Dimensional accuracy – scaled exactly from Bethlehem Steel plans
Highly accurate "true to life" colors
Exact fonts and lettering placement – compare our replicas to the prototype photos on our website!
Detail variations: Tie downs appropriate for each paint scheme
Detail variations: Steel or wood decks inside the car
Detail variations: Duryea or conventional end sills appropriate for each paint scheme
Detail variations: End door variations (Dreadnaught and Straight Corrugated) appropriate for each paint scheme
Detail variations: Tack board locations appropriate for each paint scheme
Detail variations: Brake platforms appropriate for each paint scheme
Detail variations: Handbrakes applied to match production specifications (Universal, Ajax, or Equipco handbrakes available as separate parts, too!)
Interior deck sits at the scale height
Interior detail inside the gondola
Wire grab irons and coupler lift bars
Separate air hoses
Weighted to NMRA specs for smooth operation
Genuine Kadee® scale metal couplers
Tangent 70-ton ASF A-3 Ride-Control trucks
CNC-machined 33" wheels in high quality Tangent Scale Models trucks, with semi-scale wheels available separately
Recommended age 14 years and older.
Do not miss out on this popular Bethlehem 52'-6" 70-Ton Riveted Drop-End Gondola!
Please click on the images at right for pricing, SKUs, high resolution photos, prototype photos, car number options, and/or to order!