Tangent Scale Models is pleased to announce the availability today of our second run of HO scale Pullman-Standard PS-3 2750 Coal Hoppers.
During the 1950s, Pullman-Standard began to develop a "standardized" line of freight car product types that were marketed in "families". Starting with the PS-1 boxcars and PS-2 covered hoppers, the PS-3 was rolled out with several offerings, the most prolific being this 70-ton, 3-outlet coal hopper with a cubic capacity of 2750 cubic feet. First purchased in 1957, Pullman-Standard not only had an effective marketing message with the "PS" series, but developed simultaneous production capability at both its Bessemer AL and Butler PA manufacturing plants, providing customers with a rapid response for coal hoppers that were produced at a rate of more than 13 cars per weekday during peak supply. Such rapid-production was made possible by new welding techniques that arose from the World War II period, although this was a relatively new innovation for open hoppers at the time.
Our NEW Ready to Run replicas are available now by clicking here. Our new production of these coal hoppers includes these RTR schemes:
– Boston & Maine (BM) in the "1972 Repaint" scheme that features BM reporting marks and a B&M logo on the side of a black-painted car. These PS3 2750 coal hoppers were constant features on the B&M roster since their original build dates in 1957. These models include roller bearing trucks, enterprise outlet gates, and universal handbrakes as found on the prototype cars. Our fine models are available in three road numbers.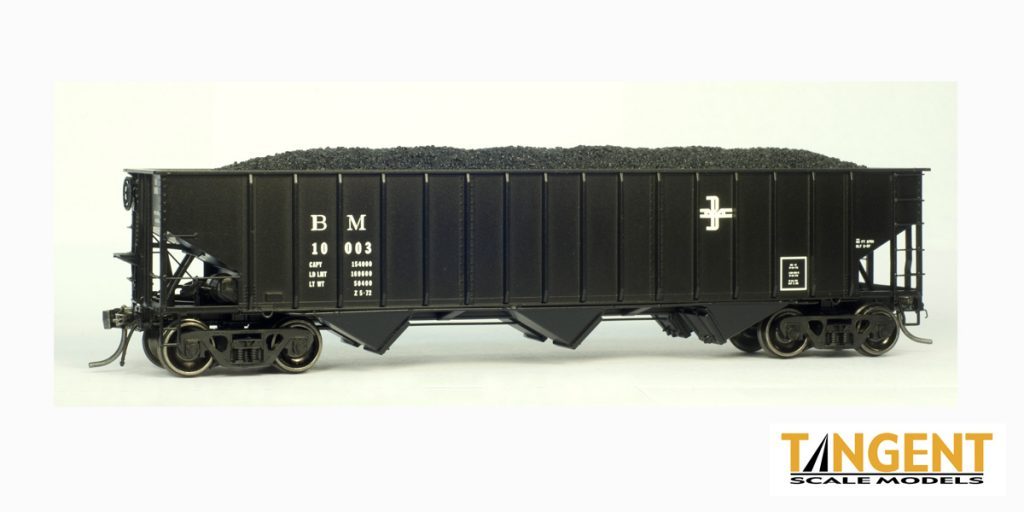 – Burlington Northern (BN) in the characteristic all-black BN repaint scheme from 7-1976. BN's repaints of the former GN cars (also sold below in this release) were selective, with much of the fleet wearing GN paint until they were scrapped. The BN cars include the BN logo and large BURLINGTON NORTHERN lettering spelled across the side of the car. These fine models are available in three road numbers so you can fill them into your roster of GN-painted cars, like the real BN did!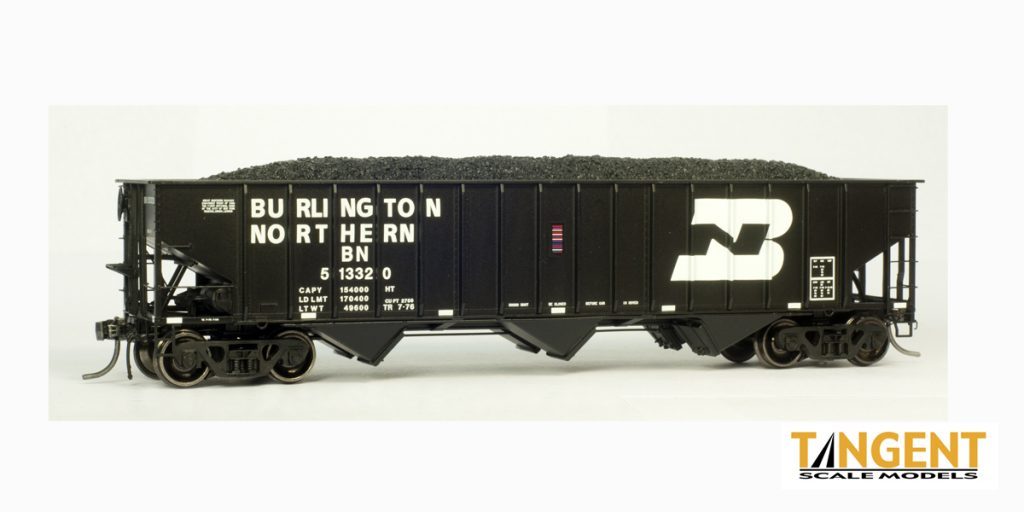 – Great Northern (GN) in the striking vermillion red "6-1965 Red Repaint" scheme, where GN went to an easier-to-maintain version of the car, where there was no longer the large "Great Northern" stenciling applied across the car side. Instead, there is only the distinctive "Rocky" logo on the left side corner. These models include Barber S-2 roller bearing trucks. Our fine models are available in six road numbers so you mid-60s modelers can build a nice block of these beauties.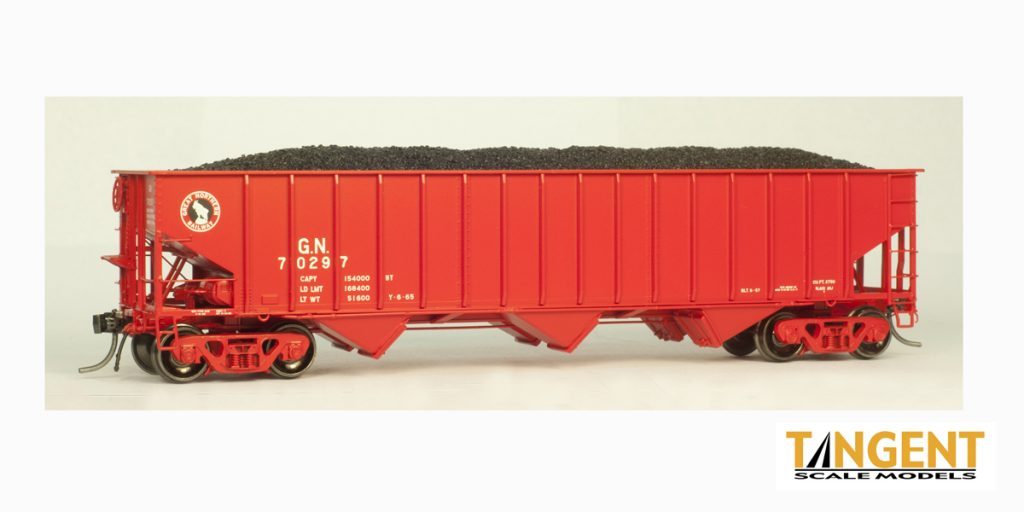 – Great Northern (GN) in three different 1970s "BN reweigh" options. We are offering one reweigh scheme from the following three month/year combinations:
• "8-1971 BN Reweigh"
• "12-1975 BN Reweigh"
• "5-1976 BN Reweigh"
These months were selected from actual photos, which we document for you on our website with actual prototype photos. These cars are a great compliment to the 1976 BN repaints and the 1965 original GN cars. Collect all of them to enlarge your "BN block" of hoppers! Again, there are three numbers total here, one for each of the month/year combinations offered above, and each car with their own distinct patch out patterns.

– Louisville & Nashville (L&N) in the striking "Original Dixie Line" scheme from 1959. These cars feature the classy L&N mineral red carbody with heap shields and with the "Dixie Line" lettering spelled out on the right side of the car. This is a DIFFERENT series than the series we offered in our first production run; this series represents L&N's second order of cars delivered in 1959, whereas the first run was delivered in 1957. It is worth noting that this was the L&N standard coal hopper design, with a humongous fleet numbering 8,150 cars built between 1957 and 1961. While these cars were the backbone of L&N's coal hauling operations, they were regularly seen offline in the South, Midwest, and Northeast. Our fine models in this 1959 scheme are available in twelve road numbers. These models include ASF Ride Control plain bearing trucks, enterprise outlet gates, and miner handbrakes as found on the prototype cars. Don't miss out on these beauties!

– Louisville & Nashville (L&N) in the "9-1973 SLS Repaint" scheme which represents repainted versions of the 1957 Pullman hoppers, repainted in 1973 with the large "L&N" stenciling on the left side of the car. These are available with six road numbers, and are our first foray into the repainted L&N cars, which should be mixed in with the original paint cars for proper fleet representation, even in the 1970s and 1980s.

– Southern (SOU) in the "Original Red 1-1958" red scheme, which represents the ACF-clone version of the Pullman-Standard designed cars, delivered to Southern in 1958, lettered for CNO&TP. These cars have the characteristic gothic-inspired SOUTHERN stenciling placed across the cars. These cars were found all over the eastern United States, not just on the Southern. However, Southern modelers will appreciate the six road numbers we offer, since the Southern's coal fleet was quite varied in size and shape, so these cars represent a "new look" for your mix of Southern cars.

– Undecorated RTR cars are available painted primer gray, and are available in two flavors – with and without heap shields.
– Undecorated Kits are also available in two flavors – with and without heap shields. This offering is for those of you who still relish the kit building process and "roll your own" aspects derived from building a kit from the ground up.
Want to see photos of our new spectacular replicas? Click here for a link to the new models!
We studied the prototype to accurately reproduce it with the following features:
– Dimensionally-correct coal hopper with trademark late 1950s design features, produced from actual Pullman-Standard blueprints
– Body variations with or without end heap shields
– Three different styles of unloading door mechanisms
– Different handbrake variations
– "See-through" brake platform
– Full "lacy" AB brake detail and train air line
– Highly correct "true to life" colors
– "Hyper-Accurate" lettering including exact fonts and lettering placement
– Durable wire grab irons and coupler lift bars
– Separate air hoses
– "Near-scale" extended draft gear box with beautifully rendered side "key" detail
– Kadee® "scale-head" couplers
– Either 70-ton ASF "Ride Control" plain bearing trucks or 70-ton "Barber S-2-A" roller bearing trucks, as appropriate for each paint scheme
– CNC-machined 33" Tangent wheels
– Replacement 33" semi-scale wheels are available separately from Tangent
– Recommended age 14 years and older
Don't miss out on the Tangent Scale Models Pullman-Standard PS-3 2750 Coal Hopper. Priced at $38.95 each, these replicas are very useful for modelers from coast to coast and will stand out well on any layout from 1958 to 2005!
Thank you for continuing to support Tangent Scale Models, a family-owned and operated company!
David Lehlbach